The Vitamin & Supplement Shoppe at Advance Biomedical Treatment Center offers a highly selective assortment of innovative, high-quality vitamins and supplements. Most of our supplements are gluten-free, casein-free, and preservative-free. Our commitment is to stock only products of high standard for each supplement type; we are not loyal to any specific brand or supplier. Our vitamins and supplements are marked at competitive prices.
The Vitamin and Supplement Brands That We Carry:
Biotics Research
BodyBio
Essential Nutraceuticals
Kirkman
Klaire
Master Supplements
Metagenics Products
Microbiome Labs
Neuroscience
Niche Pharmaceuticals
Nordic Natural
NuMedica
Nutraceutical Solutions, Inc.
Orthomolecular Products
Princeton Nutrients
Prothera
Pure Encapsulations
ResultsRNA
Select Nutrition
Vital Nutrients
Xymogen
Visit our New Vitamin/Supplement Online Shoppe!

We understand that nutritional supplements to many patients are like medication. When the supplements you need run out and you cannot drive to the clinic, you can now order thru FULLSCRIPT, our Vitamin and Supplement Online Shoppe that can deliver supplements to you quickly and easily.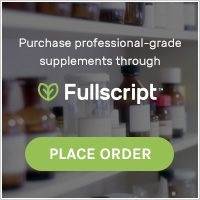 Ordering your favorite supplements is now easier than ever.
Advance Biomedical Treatment Center has launched FULLSCRIPT, a safe and convenient online shoppe for professional-grade vitamins and supplements recommended by Dr. Comia.
You will need to create an account by entering your email address and creating a password.